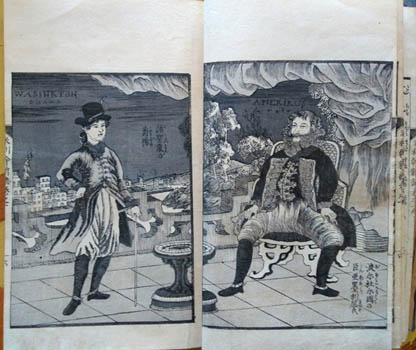 Tsurumine Shigenobu; Sadahide; &c. 米利幹新誌 [variously Meriken Shinshi; Merikan Shinshi; or Merika Shinshi]. Kasugaro 1855 [Ansei 2]. Five volumes 25x18cm, publisher's illustrated wrappers; three double page coloured maps, 22 double page and two single page illustrations. Signs of use and some minor flaws: covers rubbed and one bit of stitching broken; some grubby finger marks in bottom corners; an insignificant bit of worming to the last three leaves. A pretty damn good copy of a book usually reduced to waste paper by use. Au$6500
Usually called the first Japanese book devoted to America, this was celebrated by past generations of Americans as a quaint and amusing example of all the things the Japanese got wrong about America - specially the illustrations which are attributed to Sadahide. Even Hillier (Art of the Japanese Book), who wrote up this and Sadahide's book on Yokahama with warm appreciation, only got part of the way to explaining why this book is so good.
Now I'm sure Sadahide did not do all the illustrations but the best of the illustrations are the work of a master with few rivals anywhere in the world. It makes no sense for him to do two views of a different Columbuses and Isabellas, one pedestrian the other a twin portrait that tells something like a love story: two handsome young people suffused with mutual admiration and understanding.
There's no doubt Sadahide used European engravings for style but there is nothing slavish here. I've looked at heaps of paintings and engravings of Columbus and Isabella, looking for a model, and found nothing like this, nothing more convincing in historical terms and certainly nothing with the life of this. Sadahide was no amateur, few could draw with his precision and accuracy when called for, and he knew that what these illustrations of unknown people in an unknown land needed was imagination, action, excitement and intrigue. Look at stolid western engravings of unknown Japan, look at lifeless staged scenes by Spanish and American history painters of the famous occasions here and tell me which world you'd rather live in.
These illustrations are often reproduced but the book is not so easy to find, not complete in decent condition; worldcat finds only four copies outside Japan and a run through other catalogues finds not many more inside Japan or out.

You can email an inquiry or order securely through antiqbook
To escape the gallery, click on any symbol you find.
For a description, click on this picture.
Click on the description to make it go away.