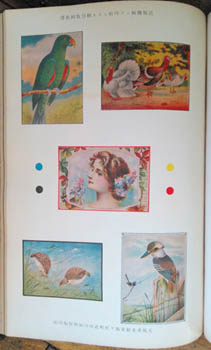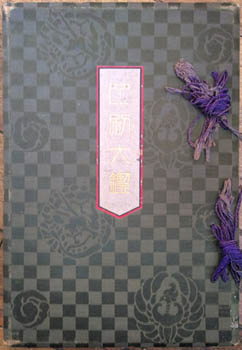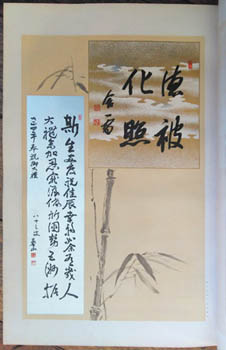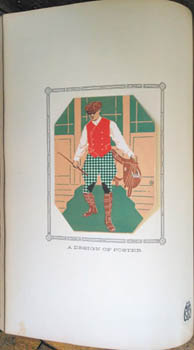 Printing, printing and printing
印刷大鑑 [Insatsu Taikan]. Osaka, Nihon Insatsu Kaisha 1915 (Taisho 4). Folio (39x27cm) publisher's patterned silk over bevelled boards with cord ties (silk worn through at the corners and edges); 12 preliminary leaves including two colour plates and a preface in French, 101 specimen leaves by different printers on different papers is a variety of techniques: chromolithography, four colour process, photo engraving, gravure, embossing, etc, with two plates on metal sheets; 11 more leaves at the end including a couple of plates. Defunct library stamps on a front endpaper, minor flaws and signs of use inside. The silk covers of this did not wear well; this is comparatively a pretty good copy. Au$1500
A luxurious bit of showing off by the Japanese printing industry announcing that they have done their apprenticeship with western printers and now match them in skill. Fine printing, book work, advertising ... some kitsch and some very smart.
For such a grand book this was not distributed as widely as you might expect. Worldcat finds two copies, in the US, CiNii finds five copies in Japanese libraries, and my searches of specialist libraries found no more.
To escape the gallery, click on any symbol you find.
For a description, click on this picture.
Click on the description to make it go away.