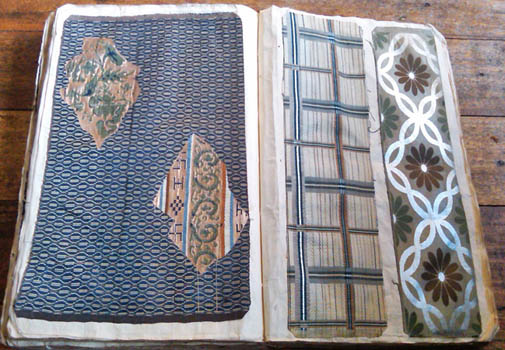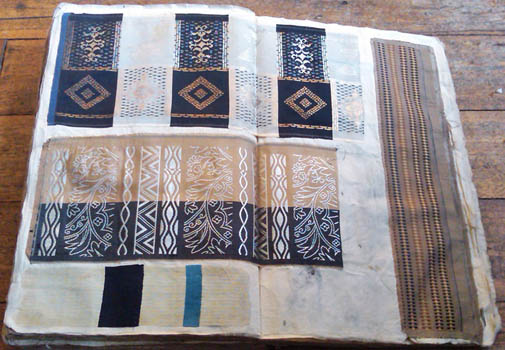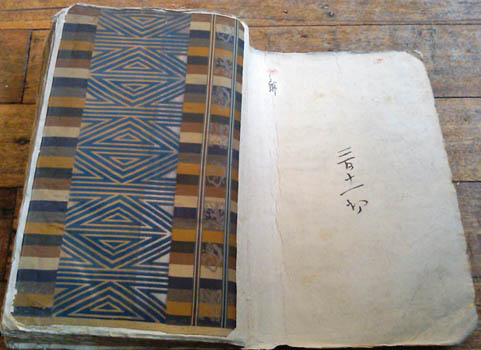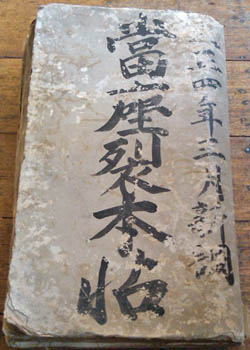 Japanese textiles. Sample book of textiles titled Tozakire Honcho [album of textiles we have handled - more or less] and dated March Taisho 4 [1915]. 360x225mm card cover titled in ink; some 311 samples on 116 leaves followed by a large number of blanks. Au$1,850
A working Kyoto draper or textile merchant's sample album of large swatches of luxurious fabrics which I'm told include Kinran (gold brocade), Kando (woven stripes or checks) and Donsu (damask silk). These are presumably Nishijin textiles.
There isn't an owner's name though there is a small red stamp inside the covers which looks like an 'm' inside an oval and part of some inscription. It's possible this came from the venerable Kyoto textile house of Daimaru - forerunner of the current department store empire - a number of sample and pattern albums from Daimaru emerged in Kyoto in recent years, but I don't know and I'm not sure it matters.
This is serious fabric. I find it interesting that while there is no shortage of tasteful bling - silver and gold - the bright, lurid, colours that came into fashion at the end of Meiji and rampaged through Taisho are significantly absent. These are for the most part pre-aniline colours. The designs, to me, range from insipid to spectacular but even my dull and ignorant eyes can see that no workman's wife wore this stuff round the house.
Being not a photographer's bootlace I should point out that what looks white in these photos is silver.


You can email an inquiry or order securely through antiqbook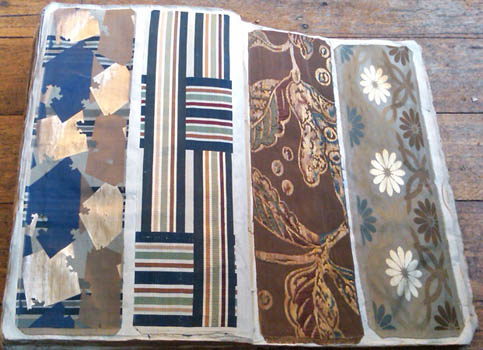 To escape the gallery, click on any symbol you find.
For a description, click on this picture.
Click on the description to make it go away.